Are you looking for a stunning way to enhance your lashes without the hassle of daily maintenance? Look no further – keratin lash lift might be the game-changer you've been waiting for! In this comprehensive guide, we'll delve into the world of keratin lash lift, shedding light on what they are, how they work, and why you should consider experiencing the magic at our beauty studio.
What Exactly is a Keratin Lash Lift?
Originating from Japan, Keratin Lash Lift is a revolutionary beauty treatment that transforms your natural lashes into voluminous, lifted wonders. Unlike traditional lash extensions that require glue and individual lash placement, a keratin lash lift involves enhancing your natural lashes using a specialized technique. By applying a gentle, nourishing solution to your lashes and then gently curling them, we achieve a captivating, wide-eyed look that can last for weeks.
The Science Behind the Magic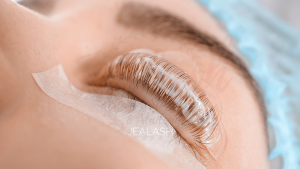 Keratin, a naturally occurring protein in our hair and nails, plays a crucial role in maintaining their health and strength. Our lash lift treatment harnesses the power of keratin, infusing it into your lashes to provide a natural, beautiful lift. The treatment not only adds a visible curl but also leaves your lashes looking darker, longer, and more defined.
Why Choose Keratin Lash Lifts?
1. Low Maintenance, High Impact: Imagine waking up to perfectly curled lashes every morning without the need for mascara or curlers. With keratin lash lifts, you can achieve a dramatic look with minimal effort.
2. No Harsh Chemicals: Unlike traditional eyelash extensions that require adhesive, keratin lash lifts use nourishing solutions that are gentle on your lashes. This means no discomfort and no risk of damaging your natural lashes.
3. Customizable Results: Whether you prefer a subtle lift or a more dramatic curve, our skilled technicians can tailor the treatment to suit your desired look.
4. Long-Lasting Beauty: Enjoy the benefits of a keratin lash lift for up to 8 weeks – no need to worry about touch-ups or maintenance during that time.
Experience the Transformation at Jealash Beauty Studio
At Jealash, we specialize in providing top-notch keratin lash lift services that cater to your unique beauty goals. Our team of skilled technicians is dedicated to creating a comfortable and relaxing environment for you to enjoy the experience. From the moment you step into our studio, you'll be greeted with professionalism and a commitment to enhancing your natural beauty.
The Complimentary Touch: Lash Tint
And that's not all. At our beauty studio, we believe in going the extra mile to make your lash experience truly exceptional. With every keratin lash lift, we offer a complimentary lash tint. This added touch of color enhances the depth and definition of your lashes, completing your look with a striking and lasting impact.
Ready to elevate your lash game? Book your keratin lash lift appointment with us and embark on a journey to discover the magic of lifted, luscious lashes. Join countless others who have experienced the beauty and convenience of keratin lash lifts, and let us be your trusted partner in achieving the look you've always dreamed of.
Intrigued? Contact us today to learn more about keratin lash lifts and our array of services that can help you feel confidently beautiful every day. Your journey to captivating lashes starts here!